This case is an overview of the work I did for a groupshow called Letter Soup.
It was held in the OD Gallery in Amsterdam from the 23rd of November 2019 until the 12th of January 2020.
The Exhibition showcased the work of myself and my studio partners: Jasper Andries, Miranda Ensink,
Jeroen Koning, Alex Klerk, Christiaan Dros, Yves van Asten and Mr. Adam.
Below the group show poster  that we designed with our studio and turned into a limited run of silkscreen prints. Each of us designed a few letters to form this alphabet.
Next to the poster, Christiaan Dros and I designed a T-shirt for the show that came in yellow and black.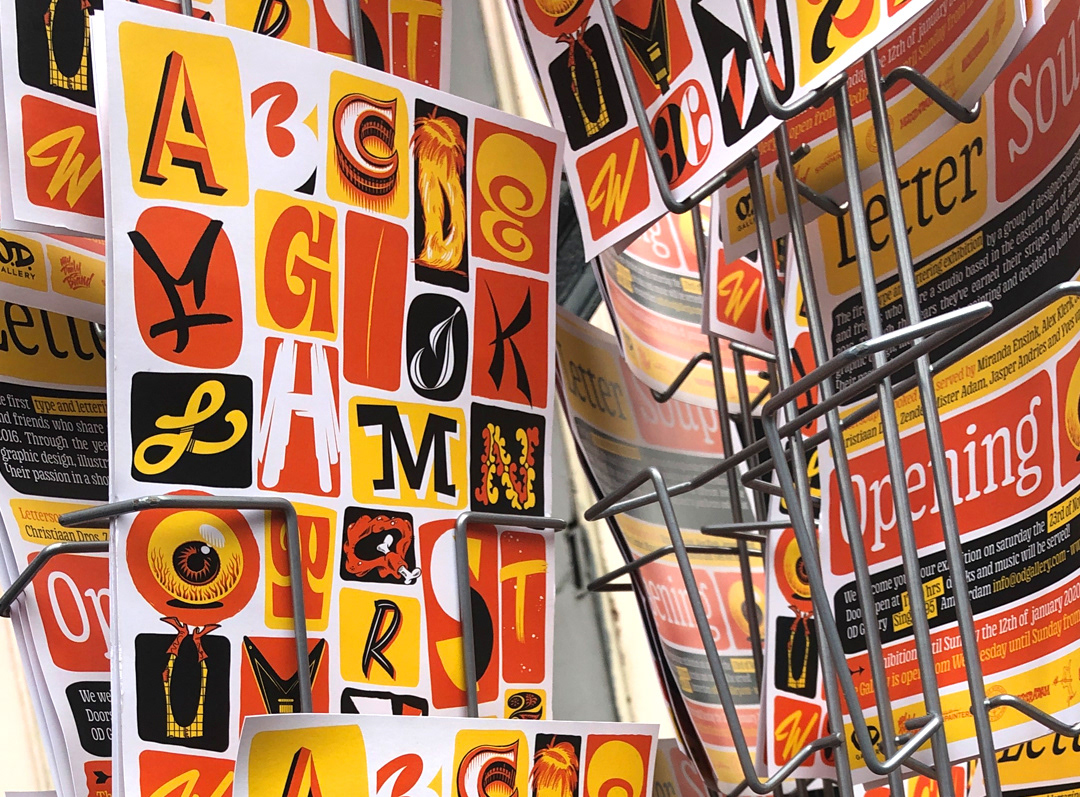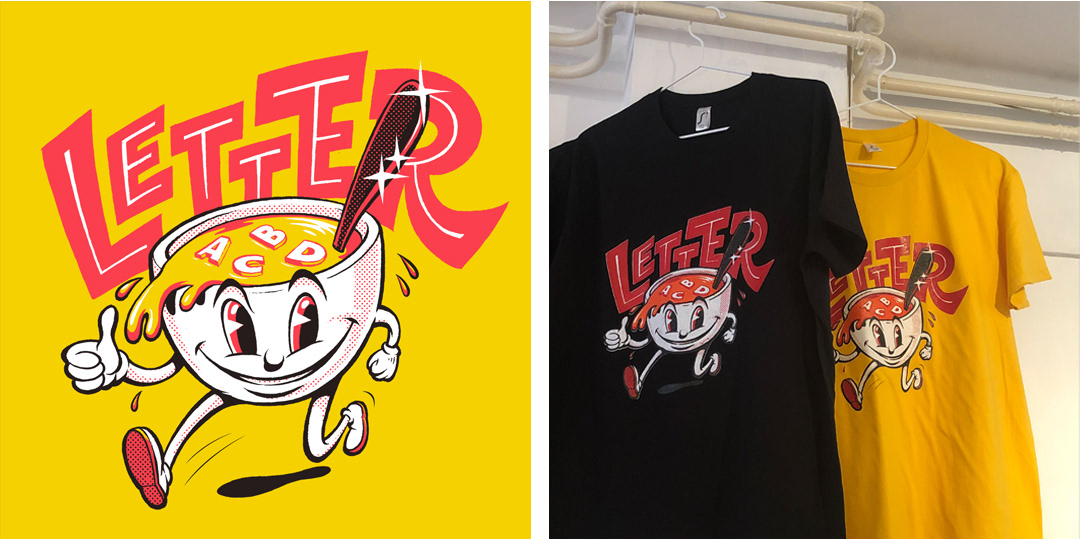 For my part of the show I ended up designing a lot of items: sign painted skateboards, bowling pins, various illustrations and paintings, and a calendar.
Below my 4 color risograph calendar, consisting of one font and two sets of digits I designed myself. This calendar came with 56 cards; one clean version and one funky retro-looking version version.
Edition of 30, printed on both sides with an oak base.
My sign painted bowling pins that were sold as a set.

Some Sign painted panels and skateboards and a teapot saying 'Par-Tea-Time!'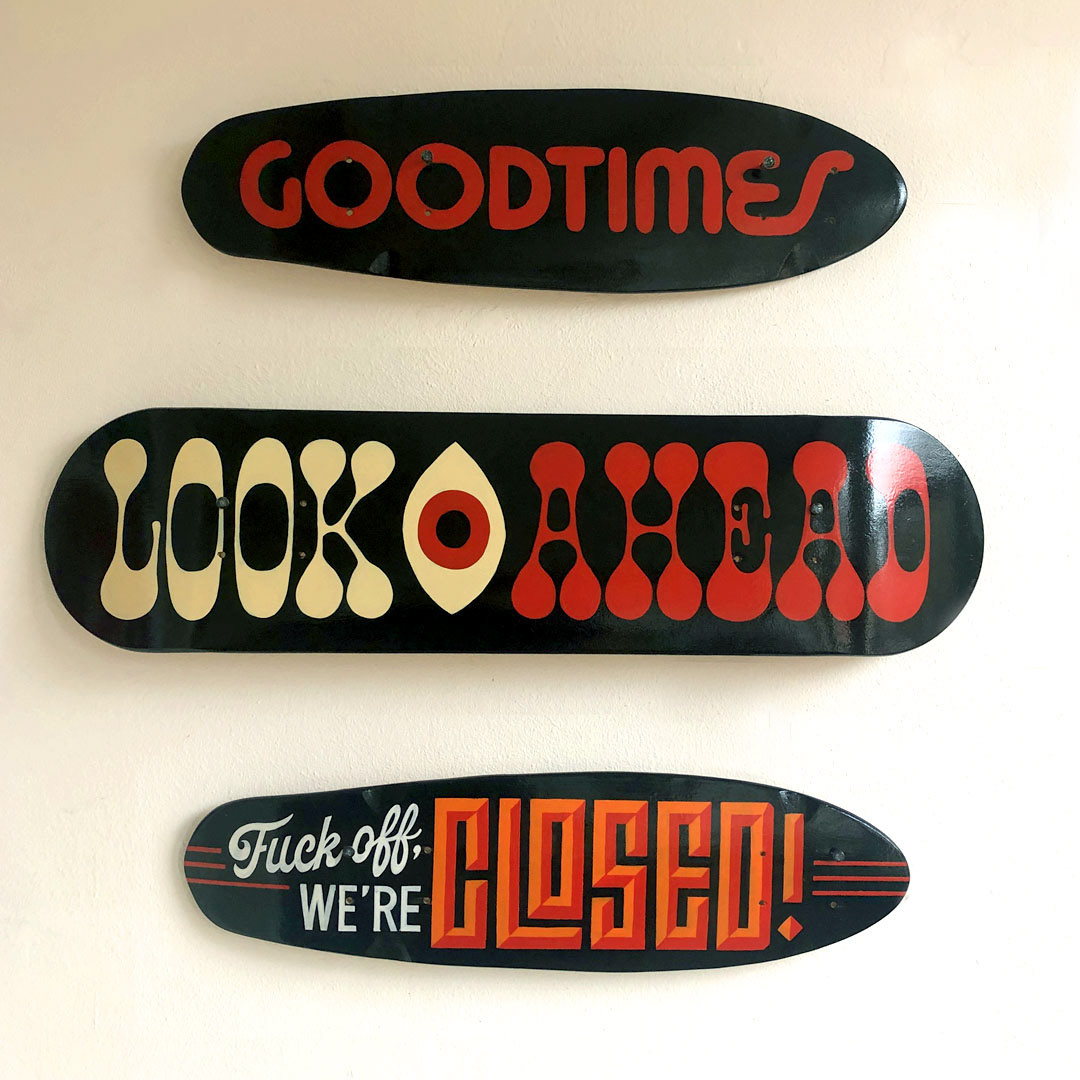 And finally, I created two illustrations.
I was never that good with perspective so for this exhibition I tried to master this skill. 'Let the good times roll' with an isometric perspective (an ode to my skateboard past) and 'Planet Sender' with a 3 points perspective. Both were sold as limited run Giclée prints and  I also sold the originals drawings that were in black and white.
I drew and inked these by hand and when finished they were filled with some old-school cut and paste halftone rasters. The color was done in the computer.
Let the good times roll' - 35 X 102 cm - Edition of 10 black, 10 greys, and 10 on white.
This one is a tribute to my skateboard past. The colors remind me of Jim Phillips and his awesome Santa Cruz skateboard designs. Also featured is the Powel Peralta 'Bones brigade' video poster, with 'The search for Animal Chin' this was one of the first movies that made a huge impact on me as a kid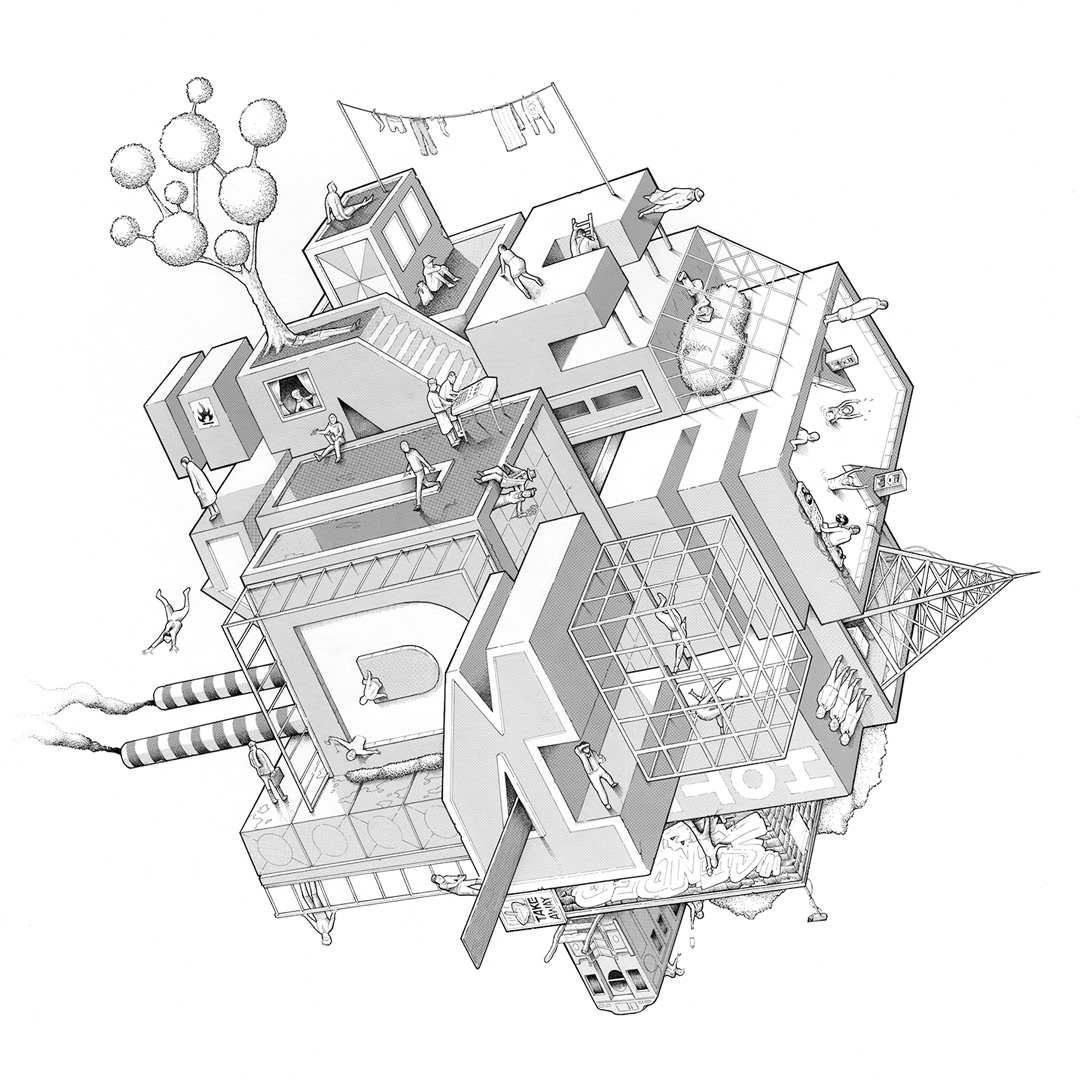 'Planet Sender' Giclée print, 71 x 71 cm, Edition of 15.